Hi,
some fresh newz
Finally and against any expectations, I had a cooperation request for commercial distribution.
And I made the decision to try the ride

I teamed up with with Joren Kandel (
PIXELLAB
) to make PXL+DIRT available on his website @
thepixellab.net
All you need is out there now ( examples, tutorials and many other great stuffs

) GRUNGE IT UP !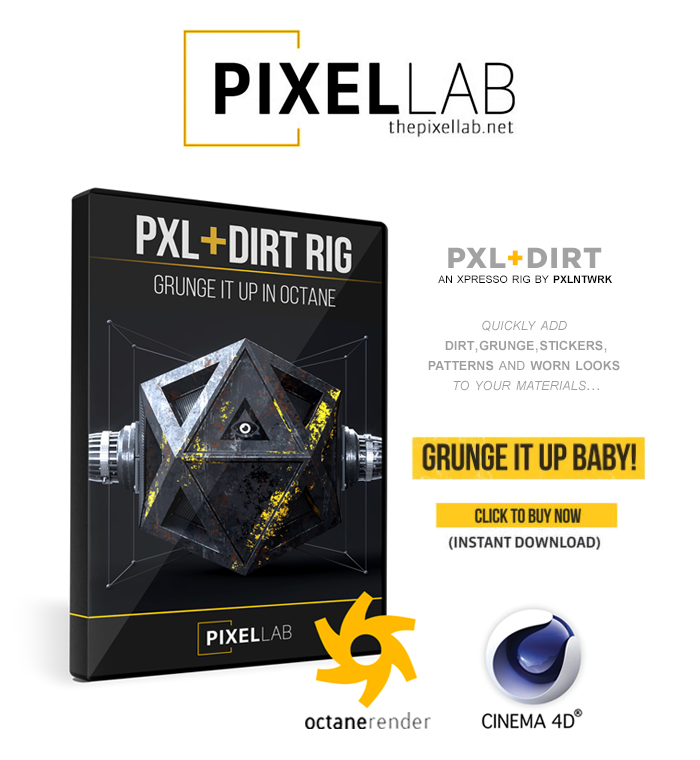 I hope you like it and that it will be useful.
Anyway thanks again for your support

Cheers !
-----------update Sat May 27, 2017 ---------------------------------
Hi,
Here is, after a short delay, a slightly more finished version of this xpresso setup.
>>>More info<<<
An animated gif and a video to show the different features

For more info there are already some described below ... but do not hesitate to ask here

Ciao !
Displacement Feature update (April 2018)
https://vimeo.com/240390650
-----------update Sat May 27, 2017 ---------------------------------
Hi,
i want to share with you a little xpresso rig, on which I play at the moment.
an helper to simply proceduraly dirt/grunge/whatever... materials for Octane Render in Cinema 4d.
Its based mainly on octane Dirt and Noise node. Nothing unseen here , just some collected controllers in User Data.
for now I still have to make some small adjustments and check compatibility if necessary.
Here is a video showing the progress state>
https://vimeo.com/206167526
here a wip thread on FrenchCinema4d Forum:
http://frenchcinema4d.fr/showthread.php ... elper-(WIP
)
I put the link of the bousin as it is (currently only tested on C4DR18.041 and Octane Render 3.06)
The archive contains the scene used in the video as well as to test a folder to put in the script folder to be able to call the rigg via a command or icon. I do not know at all if it works other than on my computer.
Link archive PXL+DIRT wip
I'm interested in all comments and advice !
Thanks for whatching