Hello,
I'm using Octane 4 and I'm experiencing a problem with the walls. Please refer to the following image;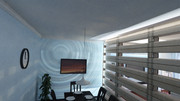 1
. It's a normal, flat wall yet there's strange light circles on it, including various other artefacts.
2.
The beams on the right are going through the wall and where it happens there's a mad amount of light bleeding through it.
3.
The ceiling is touching the vertical walls and the scene should be properly closed yet, as you can see, there's light emanating from almost all of the seems.
This is the second scene that has had this issue in a row and it's always just walls. everything else is fine and I am unable to recreate the problem on anything but the walls.
Any help would be appreciated, thank you.