Hi Folks
Recently built new machine, for exploring some GPU rendering.
After some research, was just about to buy a GTX 460, when remembered the GTX 465 unlocking rumours i had heard.
Did some more research and ended up buying a Point of View GTX 465 for £15 more than a GTX 460 1gb.
Followed a guide carefully and now have a fully unlocked GTX 470 fully featured with the 448 TMUs, 320bit bus, and 1.2Gb Ram ( though the extra .2 ram maybe disabled still need to test that )
Basically you get a reference GTX 470 with performance, power draw, and heat profiles exactly like a stock GTX 470.

CPU-Z PoV GTX 465 after unlock ( sorry i forgot to take screen shot prior to flashing it )

[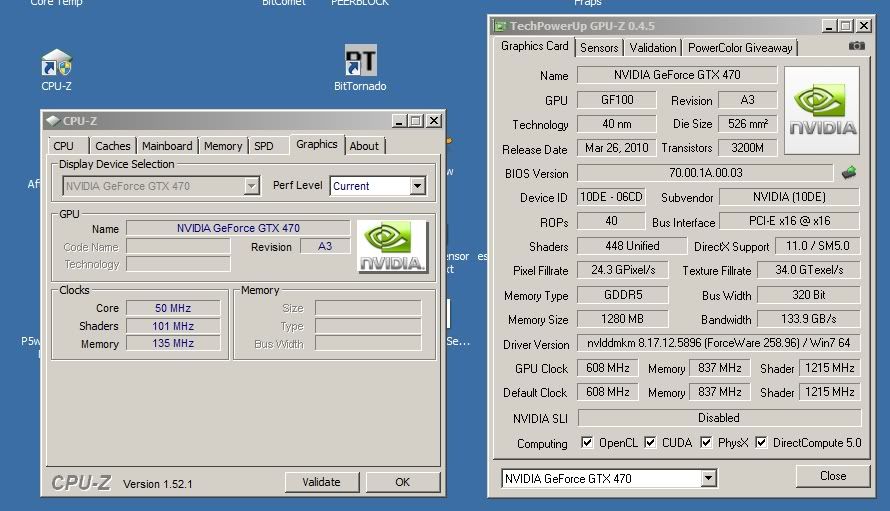 If anyone doubts my honesty i will post pics of the PoVs packaging, and the card itself, even the receipt
to show this is for real.
I have stress tested it with endless cycles of 3Dmark vantage and it is rock solid stable ( probably get cocky and start overclocking it soon )
No doubt a few of you have been wondering about the unlock process since it 1st broke on the hardware scene, going from GTX 465 to 470 gives
a nice boost in CUDA performance, so ideal solution for cash strapped GPU rendering poineers.
Just another of those PC missions that requires arming yourself with some knowledge. After that it just all falls into place really.
So for anyone who wants to try it, and all the "you only get what you pay for" "Big companies don't make mistakes like that" nay sayers.
Here are the 2 links that informed me, both what cards will unlock and how to do it properly.
http://en.expreview.com/2010/07/11/guide-on-how-to-unlock-the-geforce-gtx-465/7865.html#more-7865
http://translate.google.com/translate?js=y&prev=_t&hl=en&ie=UTF-8&layout=1&eotf=1&u=http%3A%2F%2Flab501.ro%2Fplaci-video%2Fcum-transformi-geforce-gtx-465-in-gtx-470&sl=ro&tl=en
Basically the only three cards that unlock reliably are the:-
Point of view GTX 465 ( so far seems like they all unlock )
MSI GTX 465 Twin Frozr Golden Edition ( so seems far like they all unlock )
PNY GTX 465 ( so far seems like they all unlock some need slight voltage raise to keep stable, rumours of new stock being 8 ram chip versions )
All these cards have 10 Ram chips, rather than 8 that most versions of the GTX 465 have, and GF100-275-A3 GPUs, thats what makes them reliable unlockers.
PoV and MSI are best choices. Mine is a PoV. I bought my card on 4th Sept in the UK from a large online retailer, it wasn't cherry picked or specially selected, so i find it entirely likely that PoVs will all be the same for some time at least. Since there has been plenty of time for Nvidia to do something about their unofficial upgrade program.
If you have GTX 465 already and its not one of the above cards, don't despair even if you have a 8 ram chip GTX 465 you can still use a leaked Asus research tool to unlock just the TMUs, on a lot ( not all ) of cards, further details in the guides.
Once you have the correct card the rest is pretty easy ( if a little nerve racking )
using nvflash
you have to backup your GTX 465 bios
then wipe the eeprom completely
flash the GTX 470 bios
Reboot and enjoy all the free performance
The two guides cover all these procedures in great detail in, the 1st guide will help you identify a card thats unlockable
and details on the Asus TMU only unlock, the 2nd guide seems to give the best methodolgy for the actual flashing. Both have packs with all the files needed to do the job.
Don't forget to download MSIs Afterburn GTX control tool, best app for fan speed settings and overclocking GTXs, turn that fan onto 100%
permanently.
http://event.msi.com/vga/afterburner/download.htm
Hope this helps some people
Zeb